Japan Discovery Tour (12 Days):
Join-in Small Group
390,000
---
On this Japan Discovery Tour (12 days) Join-in small group experience, visit the most iconic locations in Japan that is the ideal trip for first-time travelers with an English-speaking tour guide. Stay in 3 – 4 Star overnight accommodations and travel in style with Shinkansen (bullet-train) with combination of private bus or vehicle*. This tour is for a small group of 16 to 26 people (for a private experience for your group only, visit the Japan Discovery Private Tour page).
Day 1 – Depart for Tokyo
Depart from your home country to Japan. Please select a flight in which you will arrive no later than 2:30 PM at one of the Tokyo Airports on Day 2 of the itinerary. For guests that are already in Japan, please note that accommodations are not included on Day 1.
Day 2:  Arrive in Tokyo
Arrive in Tokyo and transfer to your hotel at your own leisure. You will officially meet your Tour Manager and other guests for the first time after arriving at the hotel. This evening, there will be a Welcome Dinner at 6:30 PM in which you will receive an orientation from your Tour Manager of what to expect, and you can also meet and have some drinks with fellow travelers that will be going on this same tour with you. 
Overnight: Tokyo 
Meals: Dinner
Day 3: Tokyo (Tsukiji Fish Market, Sushi Demonstration, Akihabara, Ginza)
On this morning, wake up early for your first full-day tour of Tokyo. You'll begin by walking through Tsukiji Fish Market, known for its sprawling fish market and is famous for the popular tuna auction that used to take place here. After visiting this busy area, you can see a culinary demonstration of sushi or sashimi-making by a professional Sushi Chef and enjoy the meal for lunch afterward. After lunch, visit Akihabara, famous for its electronic shops and is considered the center of Japan's otaku (diehard fan) culture with many shops and establishments devoted to anime and manga. Explore Akihabara and Ginza district, Tokyo's most celebrated upscale shopping, dining and amusement area. At night, meet your Tour Manager and the rest of the group at a designated izakaya, a Japanese style pub, where you will have dinner.
Overnight: Tokyo 
Meals: Breakfast, Lunch, Dinner
Day 4: Hakone (Hakone National Park, Itchiku Kubota Art Museum, Mt. Fuji area)
On this early morning, we'll drive south to Hakone, known for its breathtaking views of Mt. Fuji. Along the way, we'll stop and visit the Itchiku Kubota Art Museum, a museum located near Lake Kawaguchi and showcases some of the textile artist's kimono creations with various themes of nature and the seasons. Continue along the scenic road to the gondola which takes you on the Hakone Ropeway overlooking Owakudani Valley's extraordinary volcanic zone. Eggs are cooked in the sulfur-rich hot pools here and are said to prolong a peron's life by seven years. Later, take a cruise around the peaceful Lake Ashi. Spend the last part of the day enjoying the drive along Cedar Avenue, a historic site of Hakone Old Tokaido Road that linked Tokyo and Kyoto during the Edo Period. We return to Tokyo, where you can enjoy sampling different foods on a local walking food tour.
*Due to local conditions, the Mt. Fuji sightseeing might be altered. Details will be provided locally by your Tour Manager. 
Overnight: Tokyo 
Meals: Breakfast, Dinner
Day 5: Tokyo (Imperial Palace, Asakusa, Meiji Shrine, Harajuku)
We'll start by visiting Imperial Palace and its East Garden, a scenic part of the inner palace area. After the Imperial Palace, we'll visit Asakusa area to see Sensoji (Asakusa Kannon Temple) with its iconic gigantic paper lantern leading towards the temple. Walk along Nakamise-dori, an old shopping street with many Edo-style crafts and souvenirs. Then, we'll visit the famous Meiji Shrine, nestled in a forested area, dedicated to the deified spirits of the first Emperor Meiji and his Empress. Finally, we'll head to Harajuku, renowned for its colorful street art and fashion scene, with quirky vintage clothing stores and cosplay shops along Takeshita Street, and more traditional, upmarket boutiques lining leafy Omotesando Avenue. Enjoy free time strolling through the busy streets and alleys of Harajuku and Omotesando area at your leisure.
Overnight: Tokyo 
Meals: Breakfast, Lunch
Day 6: Kanazawa (Kenrokuen Garden, Myouryuji Ninja Temple)
Begin this early day by boarding the famous Shinkansen (bullet-train) that takes you to Kanazawa, known for its well-preserved Edo-era districts with Samurai residences, Geisha houses, and lavish gardens. Visit Kenrokuen Garden, celebrated for its classic landscape designs, before continuing to the Nomura Family House, where Samurai once lived. Explore the Myouryuji Temple, also known as the Ninja-dera, with its well-preserved hidden tunnels, secret rooms, traps, and labyrinth of corridors and staircases from the 1600s. Enjoy a local dinner in Kanazawa before transferring to Takayama for an overnight stay.
Overnight: Takayama
Meals: Breakfast, Dinner
Day 7: Shirakawa-go and Takayama
From Takayama, we'll travel to Shirakawa-go, a UNESCO World Heritage Site known for its village of thatched gassho-zukuri (praying hands) farmhouses. Explore Ogimachi, the largest village and main attraction of Shirakawa-go, and the ruins of its castle that dates back to the 1300s. Have lunch at a local restaurant before returning to Takayama, a city in the mountainous Hida region of Gifu Prefecture, and retains an especially traditional atmosphere in its old town. You'll visit the Yatai Kaikan Hall housing intricate hand-carved floats used only for major bi-annual festivals. Enjoy dinner with the famous hida beef that is renowned in this area.
Overnight: Takayama 
Meals: Breakfast, Lunch, Dinner
Day 8: Takayama, Nagoya, Kyoto (Bullet-train to Kyoto)
On this morning, enjoy a walking tour of Takayama's well-preserved Edo-period shops and houses in the Sanno-machi Historic District and the morning market along the Miya River. Across the river lies Sanmachi-Suji, a group of three main streets that are lined with sake breweries, cafes, and iconic architecture that creates a nostalgic atmosphere. Transfer to Nagoya before boarding the bullet-train to Kyoto.
Overnight: Kyoto 
Meals: Breakfast
Day 9: Kyoto (Kiyomizudera Temple, Tea Ceremony, Gion, Heian Shrine)
At the very start of the day, enjoy a traditional Tea Ceremony, where you'll participate in the ancient art of preparing and serving tea while learning the precise rules and etiquette of this traditional art. Next, stroll through the ancient streets of Sannen-zaka and Ninen-zaka with old wooden storefronts and tea houses and visit the famous Kiyomizudera Temple (Pure Water Temple), the most celebrated temple in Kyoto. Have lunch in this area on your own before meeting your Tour Manager and transfer to Gion to walk around and learn about Kyoto's geisha district. Afterward, visit the impressive Heian Shrine, a Shinto shrine built on the 1100th anniversary of Kyoto's foundation (when the capital was transferred from Nara to Kyoto) and has a giant torii gate on the approach to the shrine. 
Overnight: Kyoto 
Meals: Breakfast
Day 10: Kyoto (Arashiyama, Kinkaku-ji Temple, Nijo Castle, Rickshaw)
On this day, discover the cultural aspects of the beautiful and traditional Kyoto, as you start by visiting the Arashiyama Bamboo Forest. Stroll through the bamboo forest before taking a ride on a traditional Japanese rickshaw. Later, visit the Kinkaku-ji Temple (the Golden Pavilion), a UNESCO World Heritage Site whose top two floors are completely covered in gold leaf. Have lunch at a local restaurant before continuing Nijo Castle, which was the residence of the Tokugawa shoguns in Kyoto who had ruled over Japan for over 260 years. Spend the rest of the day and evening at your leisure.
Overnight: Kyoto 
Meals: Breakfast, Lunch
Day 11: Kyoto, Nara (Fushimi Inari Taisha, Imperial Nara, Great Buddha Statue, Deer Park, Kasuga Grand Shrine, Maiko Dinner)
Wake up early to travel by private transfer to Fushimi Inari Taisha Shrine, an important Shinto shrine in Kyoto that is famous for its thousands of torii gates (we will hike for approximately 60 – 80 minutes in total). After the short hike, transfer to the 8th century Imperial capital of Nara, known as Japan's first permanent capital with some of Japan's oldest and largest temples that are considered UNESCO World Heritage Sites. Arrive at Todai-ji Temple (Great Eastern Temple), to see the great Daibutsu (Great Buddha) bronze statue. Later, have fun at the Nara Deer Park to see and feed the 1,000 tame and wild deer with shika senbei (deer crackers). At the east of Nara Park, you will visit the Kasuga Grand Shrine which rests at the foot of Mt. Mikasa—a spiritual mountain where a god is thought to dwell, and boasts over 3,000 stone and bronze lanterns. This afternoon, return to Kyoto and enjoy some leisure time before the Maiko Dinner (this is also the Farewell Dinner), showcasing the most traditional dance performances of Geisha. 
Overnight: Kyoto
Meals: Breakfast, Dinner
Day 12: Depart Japan from Osaka
Say, "Sayonara," to the friends you made on this small group tour before transferring to Osaka for your departure flight. You also have the option to transfer to Tokyo at no additional cost.
Meals: Breakfast
Availability:
November 27th – December 8th, 2022
December 18th – December 29th, 2022
January 15th – January 26th, 2023
February 12th – February 23rd, 2023
March 5th – March 16th, 2023
March 19th – March 30th, 2023 (Cherry Blossoms Discovery Tour)
April 9th – April 20th, 2023
May 14th – May 25th, 2023
June 4th – June 15th, 2023
June 18th – June 29th, 2023
July 2nd – July 13th, 2023
July 16th – July 27th, 2023
July 30th – August 10th, 2023
August 6 – August 17th, 2023
August 20th – August 31st, 2023
September 3rd – September 14th, 2023
October 8th – October 19th, 2023
October 22nd – November 2nd, 2023
November 5th – November 16th, 2023
November 26th – December 7th, 2023 (Japan Autumn & Illuminations Discovery Tour)
December 10th – December 21st, 2023
Price:
–     Small Group:
Adults (Age 12 and up): Starting from ¥390,000 per person
Child (Age 1 – 12): ¥225,000 per person (Children will stay in the same room as adults)
1 person only supplementary cost (for accommodations): Additional ¥120,000 per person
–     Private Group:
 Included:
English-speaking Tour Manager

Small groups of maximum 26 travelers guaranteed. The tour with private mini bus within some cities will still operate with a smaller group of 16 people. If there are 15 people or less, transportation within the cities will be public transportation instead. For small groups or private tours (available at request), or in some cases larger groups, there may be multiple tour guides based on availability and scheduling.

10 nights First Class accommodations (3 – 4 Star overnight stay at traditional and modern hotels or inns):

4 nights Tokyo

2 nights Takayama

4 nights Kyoto

20 meals: 10 breakfasts, 4 lunches, 6 dinners

Transportation costs included in the itinerary. Sightseeing per itinerary in modern air-conditioned vehicles, trains, or other transportation

Comprehensive, guided sightseeing and entrance fees per itinerary (optional activities not included)

One luggage forwarding per person from Tokyo to Kyoto (one large parcel with maximum dimensions of 80 cm x 40 cm x 30cm, less than 25 kg). Guests should pack small luggage (carry-on size or smaller) for overnight stay in Takayama.

Option to transfer from Kyoto to Osaka (or Tokyo upon request) on Day 12 at no additional cost
Excluded:
Other fees not included in the tour
Optional activities at the guests' leisure
Drinks other than water for meals or additional food during meals provided
Transfers to and from the airport
Route:
Day 1: En route to Tokyo
Day 2: Tokyo
Day 3: Tokyo
Day 4: Tokyo - Hakone - Tokyo
Day 5: Tokyo
Day 6: Tokyo - Kanazawa - Takayama
Day 7: Takayama - Shirakawago - Takayama
Day 8: Takayama - Nagoya - Kyoto
Day 9: Kyoto
Day 10: Kyoto
Day 11: Kyoto - Nara - Kyoto
Day 12: Kyoto - Osaka (or Tokyo)
---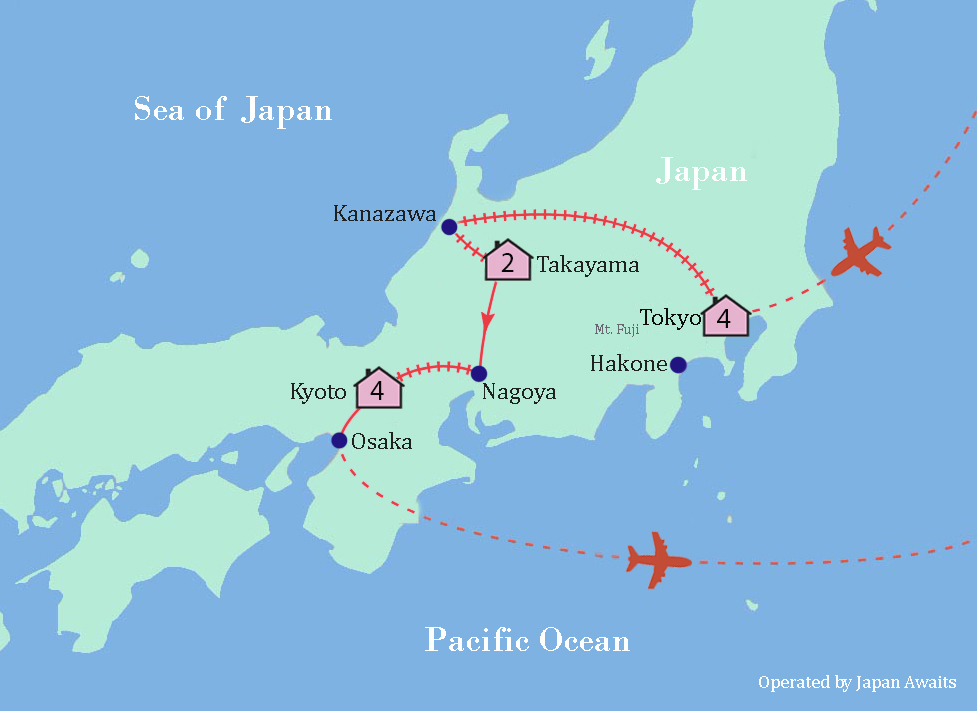 ---
Additional Information
Attire
Bring comfortable walking shoes, a sweater, clothes you can layer and an all-weather jacket. Some religious sites may require modest dress to enter: No shorts or short skirts, knees must be covered by long pants or a long skirt. No sleeveless tops, shoulders must be covered and a shawl or scarf is frequently not accepted as a cover.
The tour operates in all weather conditions (except when there is a typhoon or other extreme situations). Please dress appropriately for all weather conditions. In such case, please note that the tour may change slightly to accommodate for the weather.
Non-Smoking
While most places we visit may be non-smoking establishments, there are some places along the way that may allow smoking in designated areas. Please take note of this for guests who are sensitive to smoke.
Age Requirement
There is no age requirement, but a reservation must be made for all guests. For children (Age 12 and below), the children must stay in the same room as adults. For guests age 13 and up, guests may stay in a separate room, or may share a room with parents or other members of the group at request. Maximum of 5 people (adults and children) can have a shared room at request. Passports may be required to verify age on the day of the tour.
Payment
All bookings are payable via Stripe (Booking Checkout) or PayPal. Confirmations regarding your booking will be sent at least 40 days before your activity date.
Booking Confirmation based on number of guests
The tour will be confirmed within 30 days of the start date of the tour.
A minimum number of 16 guests in total is required to operate this tour with private bus for local transfers within some cities (transportation from major cities will always be with bullet train). The Tour Manager will be the same throughout the tour with 16 or more guests (with some exceptions in peak seasons).
If we have 15 or less guests confirmed for this tour, the tour will still proceed, but with public transportation only (no private bus as local transport). There will be different Tour Managers within different regions/areas on your tour in Japan for tours with 15 or less guests (three Tour Managers in the three different regions of Kanto, Chubu, and Kansai).
Trip Preparation
It is each traveler's responsibility to have a passport valid for at least six months beyond the dates of travel and a visa if required. 
All travelers should familiarize themselves with local conditions, such as high altitude or required immunizations, which could affect their health. We recommend you consult with your personal healthcare provider, the Centers for Disease Control and/or the World Health Organization for their recommendations.
Cancellation Policy
Firm Cancellation Policy:
Cancellation fee of 100% if booking is cancelled 7 days or less before event

Cancellation fee of 75% if booking is cancelled 14 days or less before event

Cancellation fee of 50% if booking is cancelled 30 days or less before event

Cancellation fee of 25% if booking is cancelled 45 days or less before event
Q&A
What if I'm late to meet up with Tour Manager during the tour?
We ask that all guests arrive at the location at least 10 minutes before the designated meet-up time. Since this is a group tour, we may not be able to wait for you if you are late. The tour will begin without the late guests and you can meet the rest of the group at the next location (at the guest's expense). Guests are provided with the tour guides' phone number before the tour and you can call the tour guide if you need to meet the group in the next location.
How fit do I need to be for this tour?
This active tour covers a good amount of ground each day. Expect to walk about three to six hours on some touring days. Although the pace is moderate, you may encounter some uneven surfaces, stairs, steps and significant slopes on this tour and there are some areas in the open air and with no shade. There may also be changes in set drop-off and pick-up locations due to driving conditions and regulations, which may require additional walking between the different locations.
Is this an ideal tour for first-time visitors to Japan?
Yes, this tour is ideal for first-time visitors to Japan. While this introductory Discovery Tour will visit many of the most iconic locations in Japan, there are also other places you'll visit that are not the main landmarks. This will provide you with a better idea of what life in Japan is like for locals, as well as visit to some of the main attractions that Japan has to offer.
What is the difference between this tour and the Japan Autumn & Winter Illuminations Discovery Tour in late November to early December?
The Japan Autumn & Winter Illuminations Discovery Tour is an extension of the Japan Discover Tour. The tour will cover the same cities as the Japan Discovery Tour, but will include Kobe City and other scenic spots for Autumn Foliage and Winter Illuminations throughout the route (the time at some attractions in the Japan Discovery Tour will be shortened to accommodate additional attractions on this tour).